Sunnyvale Community Services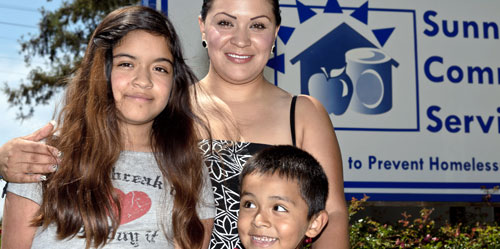 725 Kifer Road, Sunnyvale, CA, United States
408-738-4298
Emergency Services for Sunnyvale Residents
Sunnyvale Community Services is here for our neighbors in their time of need. As rents go up and food prices skyrocket, the need is greater than ever here in our own backyard. Fully 96% of our clients have incomes under 200% of the poverty level. The ethnicities of our clients range from Hispanic to White to African American, Asian, Pacific Islander, and more. And, while children represent 22% of the population of Sunnyvale, they represent 36% of our clients. Seniors make up 14% of our client demographic.
Sunnyvale Community Services provided emergency financial aid to 5,965 people in Fiscal Year 2018-19. Financial assistance includes help with rent, rental deposits, utility bills, medically-related bills, bus passes, gas vouchers and pass-through direct assistance.
Challenge Diabetes Program (CDP)
At SCS, part of our mission is to help prevent hunger and the health problems associated with unhealthy eating. Spearheaded by El Camino Hospital, the CDP program provides our clients with free screenings for diabetes and pre-diabetes, monthly bags of diabetes-friendly food, and information on diabetes management and prevention.
Serving
Children (12 and under)
Teenagers (13-17)
Minors (17 and under)
Young adults (18-24)
Adults (18+)
Seniors (65+)
Homeless
Providing
Groceries
Financial Assistance